Best Tesla Powerwall alternatives for 2020 - BSLBATT Lithium
Views:269 Author:Site Editor Publish Time: 2020-09-22 Origin:Site
A solar battery allows consumers to control their power consumption and where their energy goes. It also provides you with backup power in the event of an outage. Smart features associated with backup battery packs enable you, the consumer, to understand where your power is going and what steps you can take to lower your grid consumption.
I WANT TO UPGRADE TO LIFEPO4 WALL-MOUNTED BATTERIES. WHAT DO I NEED TO KNOW ABOUT POWERWALL REPLACEMENT?
The substantial benefits that Lithium-Ion technology offer over lead-acid technology means that using Lithium-Ion batteries is becoming an ever more popular choice. And you haven't done it yet, maybe that's because you're already adapted to the lead-acid solar storage system and still confused about this replacement process. To be honest, this is not as complicated as you think, and it brings the conveniences that you can't imagine with lead-acid products.
Just like all the battery replacement, if you want to replace your existing lead-acid battery or any other type of photovoltaic system, you need to consider your capacity, power, and size requirements, as well as making sure you have the right system. So is there anything else needed to think about?

When considering replacing existing lead-acid batteries by Lithium-ion batteries, one needs to take a couple of things into consideration.
1)The inverter brand/Communication protocol.
If you want to gain all the smart functions that our powerwall battery can provide or you want to say bye to the power bill and sell electricity to the grid, please make sure that you have got or you're going to buy the inverter which we've matched the protocols, so that you can make the full use of this intelligent device.
Most existing inverter brands are compatible with our lithium iron phosphate wall-mounted powerwall batteries. Our Powerwall has matched with the brands of the inverter as following: Goodway, Growatt, Deye, Victron, East, Huawei, Sermatec, Voltronic Power, etc. If you're using some other inverters, get contact with us to check whether we've matched or not. We are still in the process of matching new brands. Therefore even if it's not paired yet, we can also match for you, it takes about 1 month for the matching process.
2)The actual capacity you want.
You may discover that the lithium battery's capacity is generally lower than the lead-acid battery in most of the replacement cases. That's because, with the longer cycle life, Lifepo4 can be discharged deeper. Then our customers can save some costs by decreasing capacity without influencing the working hours. So please also noted that when upgrading from lead-acid to LiFePO4 batteries, you may be able to downsize your battery (in some cases up to 50%) and keep the same run time. Confirm the actual capacity you want, we can get back a more cost-effective solution to you.
3)The charging voltage.
To get the most from the Lithium-Ion batteries stay within the recommended operating conditions. Although the batteries are set up to do this automatically and safely, taking proper care of your new batteries will prevent nuisances during use such as Lithium-Ion batteries disengaging themselves (by a safety relay). The charge voltage of the battery needs to be checked and possibly changed. Where low charge voltage will result in incompletely charged batteries, overly high charge voltage will potentially push the Lithium-Ion batteries outside their allowed operating conditions. Also, don't forget to clearly claim your charge&discharge current requirements, and series and parallel requirements when buying this wall-mounted battery.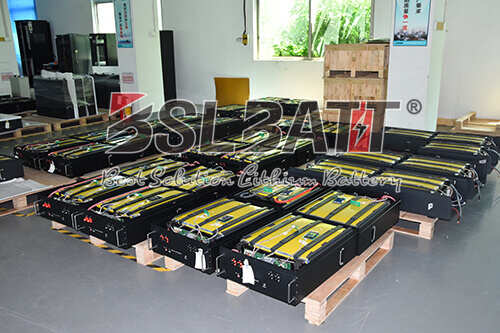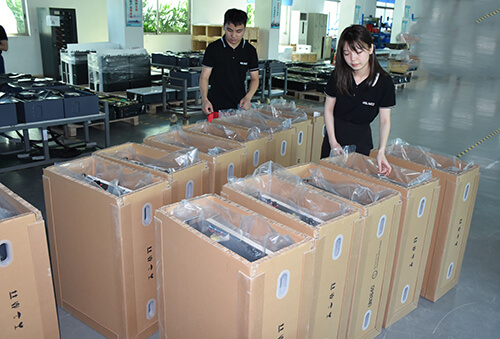 Is there a clear-cut winner among solar batteries?
Tesla's Powerwall remains one of the most popular solar batteries produced, but that doesn't make it a clear-cut winner in all categories.
BSLBATT Powerwall battery packs covered above have viable applications.
What battery will work best for your home will largely depend on your budget, your location, your personal energy consumption profile, and what additional features you'd like to see in your system.
By the way, since there is no fluid inside of LiFePO4 batteries. This gives you the flexibility to install these powerwall batteries where it is best suited for your application.
Please contact our technical support if you need assistance with your upgrade and they will be happy to make sure you're going through the right process.